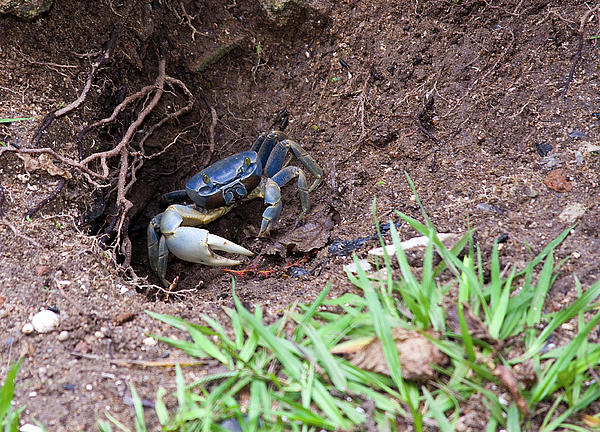 I will most probably always be considered an outsider in Belize, but I think that is the case in almost any country you emigrate to where you stick out either due to your accent, skin colour, background or otherwise. And there are definitely many things that I still don't know about or don't understand about Belizean culture. One of them is something known as Blue Crab Syndrome.
For those of you who aren't familiar with Belizean wildlife, at the start of every rainy season, thousands of giant (up to 10 inches including claw span) blue crabs emerge from the mud of the jungle/ditch/back yard to do a celebratory rain dance before the rains dry and they go into hibernation again. Of course, many Belizeans like a good crab soup, and so crabs are often caught and stuck in a bucket ready for the stew pot.
Not surprisingly, the crabs don't care too much for buckets or stew pots, and try to climb out, but none of them make it, as they all step and stumble over each other and pull each other back down. I don't know if it is due to colonialism's divide & conquer phenomenon, or a side-effect of being such a small country, but sadly, it is all too common for Belizeans to hamper and sometimes actively sabotage their neighbours' attempts to better themselves. Sometimes it even goes as far as burning down houses or businesses, but more commonly involves spreading malicious rumours and the like. Thankfully Ray is generally well liked in PG, so we haven't suffered anything too detrimental as yet, but I am always disappointed when Belizean owned local businesses fail to support what we are trying to do. We haven't asked anyone for money, just for a good word and general advice, but it's not always as forthcoming as we'd like. Ironically, it is the expat-owned businesses that support the venture more. Of course there are many locals that totally support what we are trying to do, and I hope that continues and spreads so that Warasa isn't another victim of Blue Crab Syndrome.